Talk about a situation when you taught something to someone
What the situation was.
What you taught?
Who this person was?
and explain how this might have helped the person.
Talk about a situation when you taught something to someone
Thank you for giving me such an interesting topic. As I am a guy with full of feeling of humanity, I love to assist as many people as I can. Helping others provide me real peace. There are so many chances I got when I had to help others. I would like to share with you one of them. It is about my school friend who got an presentation task on global warming task. He was told to make it in power point software. He was so poor so he had not computer at his home. Even he didn't know how to use the computer.
As I was ready always to help others, I helped him a plenty of times before. So, I asked me to help him in making presentation. I agreed to help him and invited him at my home to work on my PC. He came at my home and I taught him basic things about computer. He was poor but so intelligent guy. He learnt so fastly that how to shut on the computer and how can we give command to any task in the computer. Then I taught him how to make power point presentation in computer step by step.
He had all the content regarding his topic. First, I taught him how to make power point slides and taught him that how can we make our presentation more effective by using just some extra things in it. After the practice of 3 hours, we succeed to make a beautiful presentation. He then performed so beautifully in class and got a prize along with full marks. He came to me give all this appreciation to me. I was so happy to help him in my life. He gave me more motivation to help others in my life.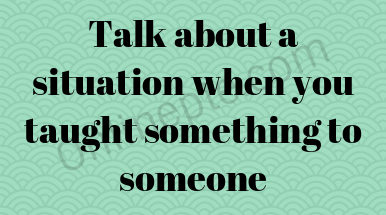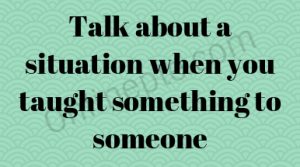 Talk about a situation when you taught something to someone
Talk about a situation when you taught something to someone