A comic actor who is popular in your country
who the actor is
how you know him/her
what kind of person he/she is
and explain why he/she is popular in your country.
in this modern era, everyone feels the stress and tension in his life because life becomes very fast due to changing circumstances.so every human being needs relief from his worries and anxieties.so comedian actors play an important role to remove stress from everybody's life. today I would like to talk about the famous comic actor Gurpreet Ghuggi who is not only famous in India but all over the world also.
Gurpreet Singh Waraich (born 19 June 1971), commonly known as Gurpreet Ghuggi is an Indian actor in Punjabi cinema, comedian, and politician. Ghuggi began his career by acting in theater in the early 1990s, after which he had recurring roles in television series such as Ronak Mela and the soap opera Parchhaven. He gained international public recognition with comedic leading roles through his videos Ghuggi Junction (2003) and Ghuggi Shoo Mantar (2004), before beginning his film career by starring as Patwari Jhilmil Singh in Asa Nu Maan Watna Da (2004). He starred in the film Carry On Jatta (2012) and was praised for his meaningful leading role in Ardaas(2015).
Ghuggi's debut film role was in the romantic drama Jee Aayan Nu, in which he played a travel agency role. Released in 2002, the movie went direct-to-video. Soon after, he became a cast member of several films, including Nalaik and Jija Ji. Ghuggi made his big screen breakthrough in 2015 when he was given the opportunity to play the lead role in Ardaas. His involvement in the film earned him the Filmfare Award for Best Actor (critics).
Alongside working in Punjabi cinema movies, Ghuggi has appeared in a few Bollywood and Canadian cinema films such as Singh is Kinng and Breakaway. He received public recognition in India through his participation in The Great Indian Laughter Challenge, a reality show on STAR One. Later Ghuggi appeared with his wife, Kuljeet Kaur, on Star One's Hans Baliye and won the contest.
In 2014, Waraich joined the Aam Aadmi Party (AAP), a political party in India. From September 2016 to May 2017, he had led AAP Punjab as the party's state convener but was replaced by Bhagwant Maan. After his replacement, he quit the party.he is popular in my country because he is completely devoted to his comedy profession.
follow-ups
Q-1 How do some actors/some comedians become famous?
Ans: Probably because they appeal to a large group of people. If it's a comedian, it may be their style, the topic of their humor or just the connection they make with their audience. Some movie actors become famous for one particular film which brings them to the attention of a worldwide audience.
Q-2 Do comedians earn a lot of money?
Ans: It depends, there are different types of comedians. Those who work on TV, those who do films and then those who do stand up comedy in theatres and clubs. I suppose some of them don't earn that much money, but on the other hand, those who do become really successful can earn millions.
Q-3 Do you think these people deserve to earn so much money?
Ans: Yes, I don't see a problem with them earning a lot of money. If people like them and are willing to pay to see them, either live or in a movie, then they deserve the money they receive. It's just like any other artist or entertainer. If they are good then they will probably earn lots of money because people value what they do.
AUTHOR;
Gagandeep Singh Kahlon
M.A.(English)B.Ed.PGDCA.
In some parts of the world, it is becoming increasingly popular to try to find out about the history of your family. Why do people do this? Is this a negative or positive development?
Some developing countries invite large foreign companies to open offices and factories in order to help their economy. However, others feel that foreign companies should be shut out and instead the government should help the local companies to contribute to the economic growth. To what extent do you agree or disagree?
Some people think that charity organizations should only offer help to people of their own country. But others believe that these organizations should give aid to people in great need wherever they live. Discuss both views and give your opinion.
https://www.facebook.com/ieltsfever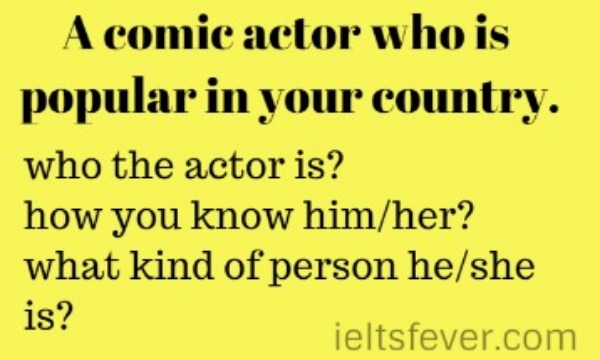 A comic actor who is popular in your country. A comic actor who is popular in your country. A comic actor who is popular in your country. A comic actor who is popular in your country. A comic actor who is popular in your country.