IELTSDATA READING PASSAGE 67-AUSTRALIAN POPULAR MAGAZINES.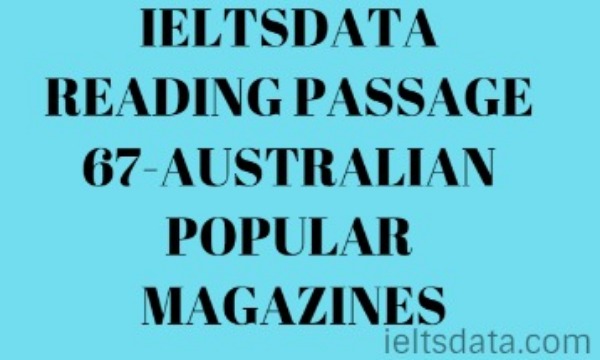 Reading Passage 1 has 7 sections A—G. Choose the most suitable heading for each section from the list of headings below. Write the appropriate numbers (i-x) in boxes 1—6 on your answer sheet.
Note: There are more headings than sections so you will not use all of them. You may use any of the headings more than once.
Example C Answer iv
HEADINGS
(i) Daniel Defoe wrote Robinson Crusoe
(ii) Australian culture and The Bulletin
(iii) Magazines in Australia today
(iv) Australia's first magazine
(v) The first magazines
(vi) Australians depend on England for news
(vii) The historical value of magazines
(viii) Improvements in printing technology
(ix) Printing of photographs
(x) Some magazines have died
Questions 1-6
1. Section A
2. Section B
3. Section D
4. Section E
5. Section F
6. Section G
AUSTRALIAN POPULAR MAGAZINES
A. The magazine as a product for leisure reading, enjoyment, and information, or, as the Gentlemen of the day would have put it 'edification', had its origins in England during the early years of the eighteenth century where the innovator was Daniel Defoe, the writer of Robinson Crusoe. The word magazine comes from the French Magasin which originally meant a store-house, an apt term since the first printed magazines were holdings for a miscellany of writings on various subjects. Defoe titled his magazine 'The Review', which, five years after the first issue, was followed by two other now-famous magazines The Trailer and The Spectator, both publications founded by the same partner — writers Richard Steele and Joseph Addison.
B. As for Australian popular magazines, initially, during the founding days of the colonies, readers at the time depended on the slow sailing ships from home to bring them, among the other necessary items, newspapers, and journals.
C. It was not until 1855 that Australia produced its own and first popular magazine. This was the highly successful Melbourne Punch, which had a lifespan reaching into the first quarter of the Twentieth Century.
D. Popular illustrated magazines rapidly became an important and significant factor to the literate in Australia, who were forming our national image, as were the singers of ballads and strolling entertainers who were also making a major contribution. Out of this background, the now famous old Bulletin emerged in 1880. From the start The Bulletin policy was to foster and encourage Australian writers and artists: it succeeded in making the names and reputations of Henry Lawson, 'Banjo' Paterson, Steele Rudd, and scores of others. It created a new, unique school of black-and-white art which, for instance, gave Phil May his big chance and eventual world recognition. The influence of The Bulletin was such that this era of the legendary 'nineties' is regarded as the source of our national culture.
From this Australian pre-Federation era a number of fascinating magazines not only founded, but many were originated and owned by distinguished writers of the day. These included the writers Henry Kendall, Marcus Clarke, Rolf Boldrewood, Randolph Bedford, Edward Dyson, Norman Lindsay and C J Dennis among others.
E. As they were developed technical advances were promptly exploited, the most sensational being the development of photo—process engraving which allowed, for the first time, the reproduction of 'half—tone' photographs. This ingenious method simply required a photograph to be re-photographed through a dotted glass screen on to a metal sheet where, after an acid bath, the tones are simulated by a pattern of a minute, raised dots varying in size. When inked the metal sheet is ready for reproducing a facsimile photograph made of tiny dots. Previously, a scene or an event was drawn in reverse, or back to front, by an artist on to a prepared block of wood. This was then given to an engraver who, with a variety of delicate cutting tools, would gouge away areas of the drawing leaving a raised surface which when inked and pressure applied would give a black and white impression of the image. And for the first time to photo-engraving enabled an artist to draw a cartoon, for instance, in any manner or style he chose and the printed result which could now be enlarged or reduced in size would be accurate in every detail just as it was drawn.
Other not so significant technical developments have been high-speed printing presses, simultaneous multi-color printing, and certain electronic 'scanner' equipment for preparing color illustrations.
F. By and large, contemporary Australian magazines today do not differ greatly in content from those of the last century. There are some new directions: the high political content of The Bulletin, for instance, reflects an awareness that Australia is increasingly being drawn into the wider international community — the features and articles about 'Big Business', home and overseas reflect this appreciation.
Whilst some one-time popular and very successful magazines — Pix and the original People for example – have not survived the years following World War II into the 1980s the long-running Australasian Post has managed not only to survive for 120 years (with a slight name change in 1946) but the magazine has been, for quite some time now, heading the list of the largest circulation for an Australian magazine of its kind. A large part of this success has resulted from a conscious editorial policy with an emphasis on Australiana. Other contemporary magazines like the Australian Penthouse and Playboy, Cleo, and Cosmopolitan—there are others—have no policy to pursue national identity, but rather to embrace an international quality or, in the case of Penthouse, some other point of interest.
G. Today, at a time of renewed national assessment, publications of the past that may have seemed inconsequential assume fresh importance as a source for the broad study of our culture. The changes in social behavior, tastes, attitudes, fashion and manners which they reflect have become a large part of our conception of ourselves.
Questions 7-11
Classify the following as belonging to:
N New method of printing illustrations
O Old method of printing illustrations
B Both methods of printing illustrations
Write the appropriate letters in boxes 7—11 on your answer sheet.
7. a wooden block
8. a metal sheet
9. a glass screen
10. inking
11. image is reversed
Questions 12-16
Several magazine titles are mentioned in Reading Passage l. For which magazines are the following statements true? Write the name of ONE appropriate magazine for each question in boxes 12—16 on your answer sheet.
Example: The first magazine Answer: The review
12. is no longer published
13. the first Australian magazine
14. has a strong political focus
15. has changed its name
16. does not emphasize Australiana
[shc_shortcode class="shc_mybox"]
Answers
1 . V
2 . VI
3 . II
4 . VIII
5 . III
6 . VII
7 . O
8 . N
9 . N
10 . B
11 . O
12 . MELBOURNE PUNCH / PIX / PEOPLE
13 . MELBOURNE PUNCH
14 . THE BULLETIN
15 . AUSTRALASIAN POST
16 . PENTHOUSE / PLAYBOY / CLEO / COSMOPOLITAN
IELTSDATA READING PASSAGE 67-AUSTRALIAN POPULAR MAGAZINES IELTSDATA READING PASSAGE 67-AUSTRALIAN POPULAR MAGAZINES IELTSDATA READING PASSAGE 67-AUSTRALIAN POPULAR MAGAZINES IELTSDATA READING PASSAGE 67-AUSTRALIAN POPULAR MAGAZINES IELTSDATA READING PASSAGE 67-AUSTRALIAN POPULAR MAGAZINES
[/shc_shortcode]
IELTSDATA READING PASSAGE 48-Bumblebee Conservation
IELTSDATA READING PASSAGE 46 -The Invisible Thread
https://www.facebook.com/ieltsfever