Describe a famous athlete you know.
Who is the person?
What is his/her achievement?
Why do you admire him?
Milkha Singh is one of the most outstanding athletes of India. He has earned the nickname 'Flying Sikh' because of his marvelous running speed on the tracks. He was born in 1935 in the Western Punjab of undivided India. He was the only Indian athlete to win an individual athletics gold medal at a Commonwealth Games until Krishna Poonia won the discus gold medal at the 2010 Commonwealth Games. He also won gold medals in the 1958 and 1962 Asian Games. He represented India in the 1956 Summer Olympics in Melbourne, the 1960 Summer Olympics in Rome and the 1964 Summer Olympics in Tokyo. He was awarded the Padma Shri, India's fourth-highest civilian honor, in recognition of his sporting achievements.
Singh was persuaded by Jawaharlal Nehru to set aside his memories of the Partition era to race successfully in 1960 against Abdul Khaliq in Pakistan, where a post-race comment by the then General Ayub Khan led to him acquiring the nickname of The Flying Sikh. As of 2012, Singh lives in Chandigarh. He met Nirmal Kaur, a former captain of the Indian women's volleyball team in Ceylon in 1955. They married in 1962. They have three daughters and a son, the golfer Jeev Milkha Singh. In 1999, they adopted the seven-year-old son of Havildar Bikram Singh, who had died in the Battle of Tiger Hill.
Milkha Singh was promoted from the rank of sepoy to junior commissioned officer in recognition of his successes in the 1958 Asian Games. He subsequently became Director of Sports in the Punjab Ministry of Education, from which post he had retired by 1998.he turned down an offer of the Arjuna Award from the Indian government, arguing that it was intended to recognize young sports people and not those such as him. He also thought that the Award was being inappropriately given to people who had little notable involvement as active sports people at all. He said that "I have been clubbed with sportspersons who are nowhere near the level that I had achieved" and that the award had become devalued. All of Singh's medals have been donated to the nation. They were displayed at the Jawaharlal Nehru Stadium in New Delhi but later moved to a sports museum in Patiala,
Singh and his daughter, Sonia Sanwalka, co-wrote his autobiography, titled The Race of My Life (2013). The book inspired Bhaag Milkha Bhaag, a 2013 biographical film of Singh's life. Singh sold the movie rights for one rupee but inserted a clause stating that a share of the profits would be given to the Milkha Singh Charitable Trust. The Trust was founded in 2003 with the aim of assisting poor and needy sportspeople.
follow-ups
Q-1 should people get inspiration from the famous athletes?
Ans: yes definitely people especially young persons should get inspiration from the life of famous athletes. Milkha Singh belongs to a very poor family but he struggled in his life and has seen many ups and downs in hia career but he did not lose hope and one day became successful in his ambition.he is known as the Flying Sikh.
Q-2 do you know any other famous athlete?
Ans: yes I know another famous athlete in the world named Usain St Leo Bolt who is born on 21 August 1986 is a retired Jamaican sprinter and world record holder in the 100 meters, 200 meters, and 4 × 100 meters relay. His reign as Olympic Games champion in all of these events spans three Olympics. Due to his achievements and dominance in sprint competition, he is widely considered to be the greatest sprinter of all time.
Q-3 what do you learn from the biography of these famous athletes?
Ans: we get inspiration from the biography of these world famous athletes. we learn that hard work and dedication toward your career would make you successful in your career one day.one should have the firm belief and trust in God then no one stop him or her to achieve his task.
AUTHOR;
Gagandeep Singh Kahlon
M.A.(English)B.Ed.PGDCA.
Also, read
Some people believe that young people know about international pop and movie stars but know very less about famous people from the history in their own country. Why is this? How can more interest be created in young people to gain more knowledge about their own famous people from history?
In the last century when a human astronaut first arrived on the Moon he said: " It is a big step for mankind&#8221, But some people think it makes little difference to our daily life. To what extent do you agree or disagree?
Some people think that universities should provide graduates with the knowledge and skills needed in the workplace in the future. Others think the true function of a university is to provide access to knowledge for its own sake. What do you think are the main functions of a university?
https://www.facebook.com/ieltsfever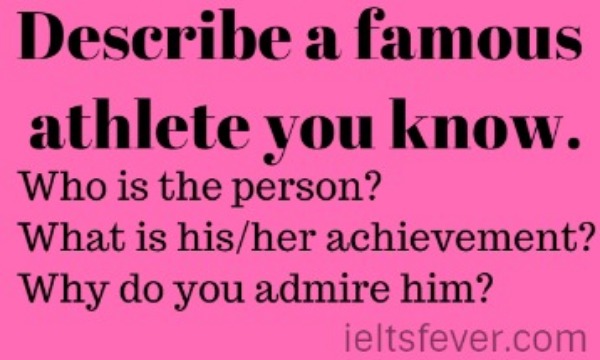 Describe a famous athlete you know. Describe a famous athlete you know. Describe a famous athlete you know. Describe a famous athlete you know. Describe a famous athlete you know.