talk about your favourite movie.
What is the name of the movie?
What is the theme of the movie?
Why do you like it?
in this modern era, with the advent of technology, there are vast sources of entertainment in the society.one of these sources is the theatre where one could feel relaxed by watching his favourite movie.movies are based on different kinds of themes like comedy, action, drama, horror, romantic, historical, religious, patriotic.but today I would like to talk about my favourite movie which I have seen with my friends in orbit cinema a few years ago.it is a patriotic movie directed and produced by JP Dutta who is a renowned filmmaker in Bollywood industry.it is the movie border.
The Border is a 1997 Indian war film based on the Battle of Longewala during the Indo-Pakistani war of 1971. The film starred an ensemble cast of Sunny Deol, Sunil Shetty, Akshaye Khanna, Jackie Shroff in pivotal roles. The film is an adaptation of real-life events that happened at the Battle Of Longewala during the Indo-Pakistani war of 1971. The film was screened retrospective on August 13, 2016, at the Independence Day Film Festival jointly presented by the Indian Directorate Of Film Festivals and Ministry Of Defence, commemorating 70th Indian Independence Day. It was the second highest grossing Bollywood film of the year worldwide behind Dil To Pagal Hai and highest-grossing film of the year in India.
Major Kuldeep Singh Chandpuri (Sunny Deol) and his battalion of 120 soldiers were ready to fight with near about 2000 Pakistani soldiers with their tank regiments. India was having no tank regiments. They had no armed forces either, just 120 soldiers and their courage. They demanded help from Air Force, but unfortunately, they had just hunter flights at that moment, which can't fight at night. These aircraft can only be used in morning. So that means, 120 soldiers had to hold on the full night in front of 2000 Pakistani soldiers who had come there with their tank regiments. Higher command gave the order to Major Kuldeep Singh that they move a step backwards as it was nearly impossible to fight. Major Kuldeep Singh and their battalion didn't step back and fight to the near death but did not surrender their motherland in the hand of the enemies. They fight till the end and when the first flight of Air Force reached the battle-filled, all the Pakistani soldiers ran away. A tribute and a salute to all those 120 soldiers who had fought with 2000 Pakistani soldiers.
follow-ups
Q-1: what kind of movies do you like other than patriotic movies?
Ans: I like comedy movies other than patriotic movies because in this fast progressing world everyone feels the stress and tensions in his life.same thing happens with me.so to make me relax I prefer to watch comedy movies like heraferi, houseful, goalmall etc.
Q-1: what is the difference between techniques for making films in the present and past time?
Ans: in the past time when movies just came in the market, the techniques were not so developed.the print of movies was black and white.but with the advent of technology a variety of techniques have come in the film industry.nowadays films are released with not only colour print but with three-dimensional features.
Q-3: what kinds of films are more successful in this modern era?
Ans: producers make films on different topics but as I earlier said that worries and tension of people are increasing day by day.so to get relaxation from their worries they prefer to watch comedy movies.
AUTHOR;
Gagandeep Singh Kahlon
M.A.(English)B.Ed.PGDCA.
Also, read
Some people believe that teenagers should concentrate on all school subjects. But, others believe that teenagers should focus on the subject that they are best at or that they find the most interesting. Discuss both these views and give your own opinion.
Some people believe famous people's support towards International aid organizations draws the attention to problems, whereas others think celebrities make the problems less important. Discuss both sides and give your opinion.
Some people who have been in prison become good citizens later. Some people think that they are the best people to talk to school students about the danger of committing a crime. Do you agree or disagree?
https://www.facebook.com/ieltsfever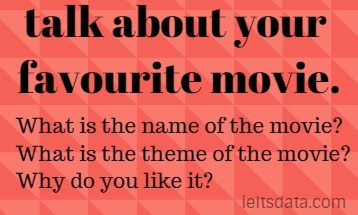 talk about your favourite movie.
talk about your favourite movie.
talk about your favourite movie.
talk about your favourite movie.
talk about your favourite movie.