describe a couple who you think have a happy marriage.
who are they?
how do you know them?
what they usually do together?
one has rightly said that couples are made in heaven.i have seen many couples in my life including my parents who lead a happy married life with their cooperation and understanding between them.but today I would like to talk about a couple who is the source of attraction for me and that is my cousin brother SIMRANJEET SINGH KAHLON and his wife ANSHU KAUR KAHLON.I saw everything in their relationship which should be necessary for a happy married life that is love, care, understanding, cooperation etc.
my cousin brother and his wife are very educated persons and they have struggled to a great extent to achieve their destination in their life.both are IAS officers and appointed on top most jobs of the civil services of India.my cousin brother appointed as a deputy commissioner in the district of Tamil Nadu and his wife appointed as assistant commissioner in excise department of India in New Delhi.
both are very cooperative and there is a deep understanding between them.i have never seen them quarrel with each other in their life.both respect the feelings of each other.inspite of having IAS officers both are deep to earth persons and they do not have the sense of proud of having high-class officers.both believe in simple living and high thinking.they run their life very smoothly.they always keep together in their happy and sad moments and stand shoulder to shoulder with each other in any ups and downs.i pray for their happy married life and everyone should the example from their life.
Follow-ups
Q-1: Do you often attend weddings?
Ans: yes, of course, I often attend marriages because marriages not only gives us chance to meet our near and dear ones but also an important source to spend leisure time.so whenever I get an invitation I definitely attend the marriages.
Q-2: What do you think is the perfect age for marriage?
Ans: it depends on a person because some persons settled themselves earlier in life but others later.when a person is settled he should have to be married.the average age of marriage for girls should be 21 to 24 and for boys, it should be 25 to 28.
Q-3: Are people celebrating in the same ways?
Ans: no not at all, people celebrating marriages in different ways.it depends upon the financial condition and thinking of a person.according to the financial condition and thinkg people celebrate marriage in their own ways.
AUTHOR;
Gagandeep Singh Kahlon
M.A.(English)B.Ed.PGDCA.
also, read
The economic growth in developing and developed countries is making people richer. However, the research indicates that people in the developing countries are happier than people in developed countries. What is your opinion on this?
A recent newspaper article reported that a 14-year-old boy who seriously destroyed his school got the punishment to clean the streets, instead of being sent to prison. Do you think this is right, or do you think that such criminals should be sent to prison?
Individual greed and selfishness have been the basis of the modern society. Some people think that we must return to the older and more traditional values of respect for the family and the local community in order to create a better world to live in. To what extent do you agree or disagree?
https://www.facebook.com/ieltsfever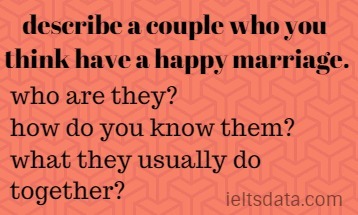 describe a couple who you think have a happy marriage.
 describe a couple who you think have a happy marriage.
 describe a couple who you think have a happy marriage.
 describe a couple who you think have a happy marriage.
 describe a couple who you think have a happy marriage.