a website which helped you to do something.
Which site is it?
How did you know about it?
How did it help?
today is the world of technology and science.india has achieved vast progress in this field.a number of innovations have come into the world market.one of these innovations is the invention of the internet.a number of websites are available on the internet which is proving beneficial for the users.today I would like to talk about a website which became helpful in my studies since 2007 when I started preparing for the Punjab Civil Services exam.
my uncle BS KAHLON who is doing the job in Punjab excise department on the post of AETC.he had appointed to this job after clearing the Punjab civil services exam.so when I asked my uncle about the strategy of preparing for this exam he gave me certain instructions to become successful in PCS exam.my uncle told me about the GKTODAY website which is an important source to gain general knowledge and current affairs.I started following this website and it helped me a lot to prepare for the PCS exam.
my uncle told me that when he was doing graduation he started preparing for the pcs exam but at that time the facility of the internet was not available in all parts of India except a few big cities.so he learnt general knowledge from the GKTODAY magazine.but nowadays with the availability of the internet, it is very easy to know about current affairs just by sitting at home from your computer or laptop.i also recommended my friends to follow this website because it is really very helpful.
follow-ups
Q-1: which other websites do you like and why?
Ans: besides GKTODAY, I like youtube where I can see my favourite videos of songs.i an also watch movies on youtube website.moreover, I like FMW11 from where I can download new and old songs of my favourite singers.
Q-1: Who is using the internet more in your country?
Ans: whether people of all ages use the internet but among them, youngsters use the internet more than other people.they use it in daily study activities.moreover, they also use it to spend leisure time.they used Facebook, WhatsApp and other apps on the internet.
Q-3: Can internet help children in their study?
Ans: yes internet could be helpful for children in their studies.they could search any type of information relating to their studies.internt could also be useful in making their daily assignments.
AUTHOR;
Gagandeep Singh Kahlon
M.A.(English)B.Ed.PGDCA.
also, read
More and more people are using the Internet to do their tasks rather than doing in person. (e.g. banking, shopping, hotel booking etc. ). Do the advantage of this trend outweigh the disadvantage.
The economic growth in developing and developed countries is making people richer. However, the research indicates that people in the developing countries are happier than people in developed countries. What is your opinion on this?
In the last century when a human astronaut first arrived on the Moon he said: " It is a big step for mankind&#8221, But some people think it makes little difference to our daily life. To what extent do you agree or disagree?
https://www.facebook.com/ieltsfever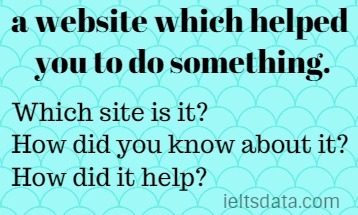 a website which helped you to do something.
 a website which helped you to do something.
 a website which helped you to do something.
 a website which helped you to do something.
 a website which helped you to do something.