describe a shop that has opened in your hometown.
What shop is it?
What does it sell?
when you first started going to this shop?
---
I live in a famous town of Punjab, Ludhiana. it is one of the districts of the state Punjab. it is known for its industries.allmost all kinds of products made in these factories.it is known as the industrial hub of Punjab.it export these products to different parts of the world made in these factories. but today I would like to talk about a shop which is recently opened by the famous company Verka in our hometown.
this shop is opened in the heart of the city. It is a big shop where all kind of products made from milk includes ghee, lassi, curd, milk in packets etc. this shop sells these products on a wholesale basis.I heard about this shop from my uncle who works in that company. he is a good friend of my father. He always visited my home to meet my father. One day when he came to my house, he told me about the shop and suggested me to visit the shop.
One day when I was free, I decided to go there with one of my friends. When we reached there, we saw that there was an excellent parking facility for the vehicles. The shop was huge, and all the items were displayed on stands. The place was elegant, and clean .there were beautiful lawns around the shop where people sat on chairs and enjoyed the products.baskets were available to carry different products, and you could pay at different counters. The price of every product displayed on it and there was no need to ask for price .there were concessions on some items. so I liked that shop very much and I often visit there.
follow-ups
Q-1: what types of industries are there in your hometown?
Ans: there are different kinds of industries in my hometown.my hometown is the hub of industries in punjab.it is the centre of trade between Punjab and other parts of India and the world.almost all kinds of goods are prepared in my hometown like clothes, toys, food products etc.
Q-2: are you interested to set up a business for yourself?
Ans: yes I am very keen to open a business for me.actually, I want to open an outlet for verka products in my locality.because here is no verka products outlet within the distance of 10 km.
Q-3: what would you keep in mind to open a shop or an outlet?
Ans.the first thing to keep in mind before opening a shop or an outlet is it should be in a public locality.there should be sufficient chances of the sale of products.moreover, the place of the shop also matters more because it should be in a neat and clean environment.
AUTHOR;
Gagandeep Singh Kahlon
M.A.(English)B.Ed.PGDCA.
Also, read
More and more people are using the Internet to do their tasks rather than doing in person. (e.g. banking, shopping, hotel booking etc. ). Do the advantage of this trend outweigh the disadvantage.
Differences between countries are barely evident these days. Everyone in the world is wearing the same brands and watching the same TV channels and movies. Do you think it is a positive or a negative development?
Some people think it is better to give donations to local charitable organizations, while others choose to give to national or international bodies. Discuss both views and give your own opinion. Give reasons for your answer and include any relevant example from your own knowledge or experience. IELTS result
https://www.facebook.com/ieltsfever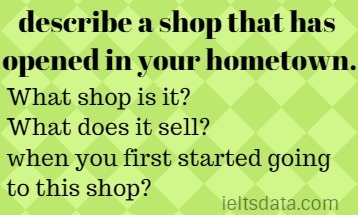 describe a shop that has opened in your hometown.
describe a shop that has opened in your hometown.
describe a shop that has opened in your hometown.
describe a shop that has opened in your hometown.
describe a shop that has opened in your hometown.