describe your favourite weather.
When this weather usually occurs?
What you usually do during this weather?
 Explain how this weather affects you?
Weather is an important part of nature. Every country has different kinds of seasons according to their global position on the earth. It plays a crucial role in the nations of a particular place. India has four seasons Summer, Winter, Autumn, and spring. Different people like different according to their choice. But my favourite season is winter.
most of the festivals are celebrated in winter in India.my favourite festival is Lohri.it comes in the month of January. There are celebrations all around. Due to global warming summers are very hot in India and it is very difficult for the people to bear the scorching heat of the Sun . on the other hand in winters,  the temperature in winters is not so high and people go to hill stations for enjoying the snowfall there.in winter people enjoyed different kinds of dry fruits. people go to gardens and enjoy the beauty of nature and have a sunbath which gives them warmth.
I live in Punjab whose capital is Chandigarh. There is a rose garden where the rose fair is arranged every year and people can see near about 1000 varieties of flowers. I also visit that place with my family. Everybody dressed up to the nine in the rose garden. People wear colourful clothes that's why winter is my favourite season.
follow-ups
Q-1:  Why do some people dislike some kinds of weather?
Ans: I think it is because of weather could limit people's enjoyment. If weather restricts people
from enjoying their favourite activity, then these people would dislike that weather.I
hate rainy days because I like to play cricket and I can't do that because of the
rain.
Q-2: How does the weather affect people's daily lives?
People prefer to stay at home on hot sunny days or rainy days and go out for picnics
on pleasant days. Also, there are eatables we like to eat in specific weather – for instance
pakoras in rainy days, ice creams on hot days etc. It also affects the clothing styles.
People wear light-coloured cotton dresses in summers and dark warm costumes in
winter.
Many festivals are related to seasons. For example, Vaisakhi celebrates by farmers when they harvest their crops in summer. youth girls celebrate Teej in Punjab in monsoon. Seasons affect the agriculture, people sow their crops according to the seasons.
AUTHOR;
Gagandeep Singh Kahlon
M.A.(English)B.Ed.PGDCA.
Also, read
Some people believe that teenagers should concentrate on all school subjects. But, others believe that teenagers should focus on the subject that they are best at or that they find the most interesting. Discuss both these views and give your own opinion.
In some countries, the number of people using bikes as main transport mode is decreasing, even though it is so beneficial. Why is this so? How can people be encouraged to use more bicycles?
describe an event/happy experience from your childhood that you remember.
https://www.facebook.com/ieltsfever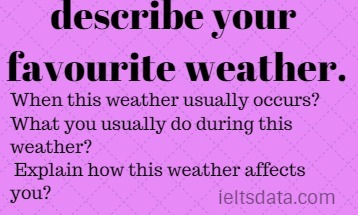 describe your favourite weather.
describe your favourite weather.
describe your favourite weather.
describe your favourite weather.
describe your favourite weather.