describe an interesting place that few people know.
where is it?
When you go there?
What can you do there?
why few people go there? 
---
there are some places on earth about which very few people know but they gave peace to our mind. There is a number of interesting places in my hometown which are worth seeing like parks, museum, shopping malls, nature parks, Nehru Park. today I would like to talk about a place which is not so popular but it is still very interesting. It is the nestle park situated on the Moga to Ferozepur road.
Few people know about it because it is a little bit on the outskirts of the town. Me too was not known about it. But I heard about it from my friend. It is far from the madding crowd of the city and its beautiful garden with green grass and colourful flowers attached me with nature. It is maintaining the famous milk products of Nestle company. It is interesting because there are all facilities available there for people.
One can enjoy the delicious milk products of Nestle and kids can enjoy the rides there. There is no fee for it. proper sitting arrangements are there for the elder people for sit. I often visit there with my family to spend my leisure time. There is not too much rush in the park and one can enjoy the entertainment and fun there. Sometimes Nestle canteen there gives a discount on various milk products. I particularly like sweet Lassi there which is very sweet, tasty and delicious.
follow-ups
Q-1: why you like places where few people go?
Ans: nowadays, life is full of worries and tensions.we have seen that there is a rush of people everywhere and one cannot find peace and relief in such kind of circumstances.so I like to visit places where few people go because it gives me chance to get relief from worries and for doing meditation.
Q-2: is there any other place where you feel relax after going there?
Ans: yes the fields in my village is another place where I feel relaxed after going there because there is pin drop silence there.there is no noise of vehicles and one can only hear the sweet chirping of birds on the trees.the air is fresh there and the green crops lashes in the fields.
Q-3: with whom you like to go there?
Ans: I like to go there with my cousin brother because I have a very loving relationship with him.he is of a very cool and calm nature and love to visit such kind of places.
AUTHOR;
Gagandeep Singh Kahlon
M.A.(English)B.Ed.PGDCA.
also, read
Some people believe that teenagers should concentrate on all school subjects. But, others believe that teenagers should focus on the subject that they are best at or that they find the most interesting. Discuss both these views and give your own opinion.
The use of mobile phone is as antisocial as smoking. Smoking is banned in certain places and so mobile phones should also be banned. To what extent do you agree or disagree with this statement?
Many people believe that healthy eating and the importance of healthy food should be taught in schools. Others say that parents should teach their kids about healthy food and diet. Discuss both views, give your opinion and relevant examples
https://www.facebook.com/ieltsfever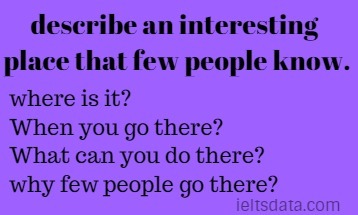 describe an interesting place that few people know.
describe an interesting place that few people know.
describe an interesting place that few people know.
describe an interesting place that few people know.
describe an interesting place that few people know.