describe an interesting person from another country.
Who is this person?
What does this person do?
Why is this person interesting?
How do you think of this person?
---
There are a number of interesting persons who achieved name, fame and wealth with their extraordinary skills, knowledge, and experience. I would like to talk about a person who is a great source of inspiration not only for me but for the whole world also. He is Mark Zuckerberg who is the co-founder of Facebook which is used in all over the world.
He is born in the USA in may 18,1984. Mark is an American computer programmer and Internet entrepreneur. He is a co-founder of Facebook and is currently its chairman and chief executive officer. His net worth is estimated to be US$62.2 billion as of March 25, 2018. He is one of the richest persons in the world.Zuckerberg launched Facebook from his Harvard University dormitory room on February 4, 2004, with college roommates and fellow Harvard students. The group then introduced Facebook to other college campuses. Facebook expanded rapidly, reaching one billion users by 2012.
Zuckerberg donated an undisclosed amount to the diaspora, an open-source personal Web server that implements a distributed social networking service. He called it a "cool idea".Zuckerberg founded the Start-up: Education foundation. On September 22, 2010, it was reported that Zuckerberg had donated $100 million to Newark public schools, the public school system of, Newark, new jersey.
Zuckerberg met his future wife, fellow student Priscilla Chan, at a fraternity party during his sophomore year at Harvard. They began dating in 2003. On May 19, 2012, Zuckerberg and Chan married in Zuckerberg's backyard in an event that also celebrated her graduation from medical school.I think mark is a great personality and everyone should get inspiration from his hard work, dedication and success.
follow-ups
Q-1: what do you learn from the life of successful persons?
Ans: I learn that if you do any work with hard work and dedication then nothing is impossible.one should have the concentration in his work and curiosity to do that.this would lead one to great heights in his life.
Q-2: do you believe in luck in the life of great personalities?
Ans: yes definitely luck matters more in the life of great persons.but one cannot overestimate hard work and dedication of that person about his work.
Q-3: is there any other person from another country who influenced you?
Ans: yes there are a number of persons but I would like to talk about bill gates who is one of the wealthiest persons in the world.he is the co-founder of Microsoft incorporation.he is the founder of the great revolution in the software world.
AUTHOR;
Gagandeep Singh Kahlon
M.A.(ENGLISH)B.Ed.Pgdca.
also, read
Environmental problems are too big for individual countries and individual persons to address. In other words, we have reached the stage where the only way to protect the environment is at an international level. To what extent do you agree or disagree with this opinion?
Some people think that charity organizations should only offer help to people of their own country. But others believe that these organizations should give aid to people in great need wherever they live. Discuss both views and give your opinion.
Some people believe that teenagers should concentrate on all school subjects. But, others believe that teenagers should focus on the subject that they are best at or that they find the most interesting. Discuss both these views and give your own opinion.
https://www.facebook.com/ieltsfever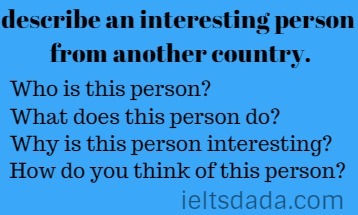 describe an interesting person from another country.
describe an interesting person from another country.
describe an interesting person from another country.
describe an interesting person from another country.
describe an interesting person from another country.