talk about a toy you liked in your childhood.
what was it?
why did you like it?
what did you experience when you had it?
there are three stages in every person's life.childhood, teenage and old age.but among them, childhood is the golden part of any human beings life.because in this age every person is free from all kinds of worries and responsibilities.one is free to play and do other things with his friends.parents of every child bought a large number of toys for him and he loved to play with them.I too have many toys in my childhood.but today I would like to talk about a toy in my childhood which I liked most and it was a beautiful pistol toy.
my uncle brought this precious gift on my 5th birthday from Moga.he knew about my choice.my father is doing the job as a sub-inspector in Punjab police.so my father always keeps a pistol with them which is given to him by the police department.so I always saw them wearing a pistol.so I had a keen urge to have a pistol like that.so my uncle fulfilled this wish of mine on my birthday.i was very happy after receiving it.i was made of the combination of plastic and glass.when I pushed the trigger then it spreads a colorful light which could be seen through the glass.
I always took it with me wherever I had gone.it seems to me like a good companion of me.I had always hanged it with my belt like my father and sometimes  I played the role of a police officer when I played with my friends the game of police and thief.but one day there was a function in my house and unfortunately my pistol had lost.it seemed to me at that time that a good companion of mine had lost.I felt sad for the whole week at that time.now I am 25 years old and my father bought an original pistol for me but it has a different meaning for me than the one in my childhood.i still miss my childhood companion.
Gagandeep Singh Kahlon
M.A.(English)B.Ed., PGDCA.
Also, read
Some people think it is better to give donations to local charitable organizations, while others choose to give to national or international bodies. Discuss both views and give your own opinion. Give reasons for your answer and include any relevant example from your own knowledge or experience. IELTS result
Some children find some subjects such as mathematics and philosophy too difficult to learn, so some people argue that those subjects should be optional rather than compulsory. To what extent do you agree or disagree?
ieltsdata cue card example January to April 2017 Describe a tall building in your hometown you like or dislike
https://www.facebook.com/ieltsfever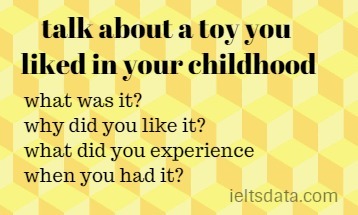 talk about a toy you liked in your childhood talk about a toy you liked in your childhood talk about a toy you liked in your childhood talk about a toy you liked in your childhood talk about a toy you liked in your childhood