talk about a special day which was not that expensive or on which you did not have to spend a lot of money.
what was it?
why was it not expensive?
how you celebrated it?
special days have a lot of importance in a person's life.a person could gain happiness by celebrating these kinds of days.a special day may be a marriage, a birthday party, a farewell party or any other function.it adds to the happiness of a person's life.today I would like to talk about a special day which I celebrated with my friends when I was doing my master's degree from Punjab University Chandigarh.it was the last year of our degree course.my birthday was on 12th December and our exams were scheduled in the month of April.so it was the last months of our study and after that, we have to come back to our homes.so all my friends decided to celebrate my birthday.
so I decided to celebrate my birthday in rose garden because it was a beautiful place to visit.we booked a birthday cake in the restaurant near the garden.we also brought some snacks and some other eatable things with us on the 12th December.we were all eight friends.when we entered the garden there were beautiful rose flowers blooming all around of different varieties and colors.there were grounds of green grass which presents a scenic view of nature.there were some fountains in the garden and music was also played there.
after wandering in the garden for some time, I cut the cake and we all enjoyed the delicious cake.my friends brought some gifts for me and I thanked them for it.after that we went to the restaurant in the garden and drank some beverages and ate snacks.we also ordered some fast food because the new year was coming ahead and there was a discount on all eatables in the restaurant.after taking food we went to the garden and danced on the rhythmic tunes of music for some time.so we all enjoyed my birthday in a beautiful way and it is one of the unforgettable moments of my life.
Gagandeep Singh Kahlon
M.A.(English),B.Ed., PGDCA
Also, read
Some people say that the best way to improve road safety is to increase the minimum legal age for driving cars or riding motorbikes. To what extent do you agree or disagree?
Prison is the common way in most countries to solve the problem of crime. However, a more effective solution is to provide people a better education. Agree or disagree.
As well as making money, businesses should also have social responsibilities. Do you agree or disagree?
https://www.facebook.com/ieltsfever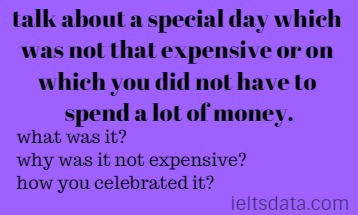 talk about a special day which was not that expensive or on which you did not have to spend a lot of money talk about a special day which was not that expensive or on which you did not have to spend a lot of money talk about a special day which was not that expensive or on which you did not have to spend a lot of money talk about a special day which was not that expensive or on which you did not have to spend a lot of money