what is your idea of a perfect home?
Where would it be?
How would it loo?
When do you think you would have such a home?
every person has three basic necessities in his life.like food, shelter and clothing.every human being has a dream to have a perfect home.so today I would like to talk about my dream house.at present, I am living in an apartment in Moga district of Punjab.my house is near the grand trunk road and due to this there is lots of noise pollution and air pollution.there is no greenery all around my house which is an important source to decrease the air pollution.it is very small in size and have no parking facility and I have to park my car on the street which could be very risky because I have heard about many incidents of theft in the city.
I want to build my house in the hilly area because I hate the scorching heat of the plains.the weather in the hilly area is very pleasant.the tall trees on the hillside and green grass everywhere presents a scenic view of nature.I want a two story house and there would be a small garden in front of my house because of I fond of gardening.i would like to have a small swimming pool in my house and a balcony from where I could enjoy the beauty of nature.i would like to have Italian style furniture and very beautiful interior.i would like to have 4 bedrooms with attached bathrooms, two drawing rooms, one kitchen, prayer room and a gym room.i would also like to install solar system in my house so that I could save electricity.
I am saving money for my dream house.i have saved money from my salary every month and deposited it in my bank account. when I saved the required money I would start my dream project.
follow-ups
Q-1: is it easy to fulfil your dream in this modern era?
Ans: no, it is not as easy as it seems to be because due to inflation the prices of all the material required to build the dream project has increased.so for this exorbitant amount of money is required to fulfil a dream.so it is not easy to fulfil a dream in this modern era.
Q-2: what do you mean by a perfect home?
Ans: a perfect home is that which have all the facilities required by a person at home. it may be surrounding, ventilated rooms,
garage, balcony, washrooms, drawing rooms, prayer room, a well-equipped kitchen etc.
Q-3: could you give an example of perfect town planning in your state?
Ans: yes there is a very beautiful city in my state which is known for its perfect town planning.this city is Chandigarh which is capital of my state Punjab.it is a union territory and also known as a green city because there are a large number of trees and gardens all around the homes.
AUTHOR;
Gagandeep Singh Kahlon
M.A.(English)B.Ed.PGDCA.
Also, read
Old generations often hold some traditional ideas on the correct way of life, thinking and behaviour. However, some people think that it is not helpful for the young generations to prepare for modern life in the future. What's your opinion?
Interviews form the basic selecting criteria for most large companies. However, some people think that interview is not a reliable method of choosing whom to employ and there are other better methods. To what extent do you agree or disagree?
Some people think that the government should establish free libraries in each town. Others believe that it is a waste of money since people can access the Internet at home to obtain information. Discuss both sides and give your own opinion.
https://www.facebook.com/ieltsfever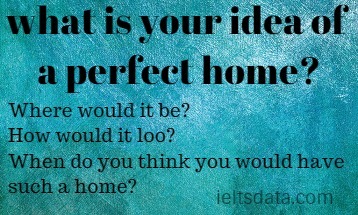 what is your idea of a perfect home?
what is your idea of a perfect home?
what is your idea of a perfect home?
what is your idea of a perfect home?
what is your idea of a perfect home?