describe a creative inventor or musician.
Who is this person?
What does this person do?
what are the achievements of this person?
creativity is a God gift.every person is born with some specific talents.but the only need is to highlight and polish this specific talent.today I am going to talk about a famous person who is not only a great musician but he is also a great lyricist, composer, and a singer.his name is Satinder Sartaj.he is well known for his great sufiana singing and he is shining like a star in Punjabi music industry in a short passage of time.
he has studied at Panjab University Chandigarh.first of all he has done graduation in music.after doing graduation he did masters in music.and finally, he did the doctorate in Sufi music from Panjab University Chandigarh.when he finished his study, he is appointed as the head of the department of Sufi music in Panjab University Chandigarh.during his teaching he produced his first album of Sufi music named "Sai" which became very famous not only in Punjab but all over the world also.after that, he never looked back.
he is considered as a scholar of Gurmukhi language, Punjabi culture, traditions, and folk.he has done many concerts all over the world and gained name and fame.he is so created that he has created a musical instrument named saaz-Sartaj.his other achievements in Sufi music singing are tere qurbaan, sartaaj, cheerey wala sartaaj, sartaaj live, afsaaney sartaaj de, rangrej-the poet of colors, hamza-a sufiana ecstasy, hazaarey wala Munda and seasons of sartaaj.he has also won many prestigious awards for his sufiana singing.
besides singing, he has also done an international film named the black prince which is based on the life of the last king of Punjab Maharaja Dalip Singh.he has gained fame for his acting in this film.so he is a master of creativity.
follow-ups
Q-1: do all persons are god gifted with creativity?
Ans: no, all persons are not god gifted with creativity.some persons have to do hard work and they need to gain experience to create something.on the other hand, some persons are well versed in certain talents.
Q-2: should the students be motivated to be creative?
Ans: yes, definitely students must be motivated to be creative not only by their teachers but by their parents also.a creative person could gain name and fame anytime and anywhere.so it is necessary that students should be encouraged.
Q-3: could creativity be inculcated in a person forcibly?
Ans: no, not at all, creativity could not be inculcated in a person forcibly.it could be gained only by interest and hard work.forcibly inculcated creativity could not produce fruitful results.
AUTHOR;
Gagandeep Singh Kahlon
M.A.(English)B.Ed., PGDCA.
Also, read
Some people believe that courses of performing arts (e.g. dance, music, drama etc.), should be funded by the government. Others believe that these should be funded through other ways (e.g. businesses or student's family). Discuss both views and give your opinion.
Some people think that the government should provide assistance to all kinds of artists including painters, musicians, and poets, etc. However, other people think that it is a waste of money. Discuss both views and give your opinion.
ieltsdata cue card example January to April 2017 Describe a time you had good experience in the countryside
https://www.facebook.com/ieltsfever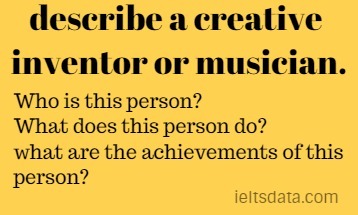 describe a creative inventor or musician. 
describe a creative inventor or musician. 
describe a creative inventor or musician. 
describe a creative inventor or musician. 
describe a creative inventor or musician.