describe a time when you tried a new food for the first time.
what food was it?
when you tried it?
 explain whether you like this food or not.
food is one of the three basic necessities of a person food, shelter, and clothing.one must need food to survive in life.today I would like to talk about a time when I tried a new kind of food for the first time.it was pizza on the pizza hut.it was the time when my brother came from Canada.my uncle lives in Chandigarh.he invited us to visit Chandigarh.it was the month of November last year.we went there by our car.we started our journey from Moga in the morning and reached there within 5 hours.
my uncle and his family were waiting for us.we took tea after reaching there.my uncle's house is in sector 39-c.it is a beautiful place.we took rest for 2 to 3 hours.in the evening we went to the sector 17 with our cousin brother.he told us that pizza on pizza hut is very delicious here.I had never eaten this food earlier.so I was very excited to taste this delicious food.we went to the pizza hut shop.the festival of Diwali was coming ahead.so there was a discount on pizza.one medium size pizza was absolutely free with one family size pizza.so my cousin ordered one family size pizza.we ate it and it was really delicious.
I really liked this food.it was made of bread and served hot.pieces of different vegetables were scattered on it with creamy butter.the tomato sauce was served with it and it added to its taste.one glass of soft drink was also served with it to each of us.the place was very neat and clean and there was very good seating arrangement there.there was a small bell hanged there.I asked my cousin about this.he told me that this is to give the compliment about the service and quality of food.if you liked it then ring the bell.so I rang the bell because I really like both the things.
follow-ups
Q-1: do you like homemade food or fast food?
Ans: I like homemade food more than fast food.whether I eat fast food on certain occasions but I prefer to eat homemade food because it is less in calories, low in fat and hygienic than fast food.
Q-2: what kind of food is famous among youngsters nowadays?
Ans: fast food is very famous among youngsters in the present era.because it is easily available in the market and easy to prepare.it is delicious also.moreover, it becomes a fashion among youngsters to eat fast food outside the home.
Q-3: is fast food cause obesity among children in this modern era?
Ans: yes there is no doubt that fast food causes obesity among children because it is rich in calories, fat, oil.moreover, children prefer to eat fast food than homemade food and that's why they become obsessed.
AUTHOR;
Gagandeep Singh Kahlon
M.A.(English)B.Ed., PGDCA.
Also, read
Some people believe that studying literature is important for individual character building while others think it is a waste of time. Discuss both points of view and provide your own opinion.
Many people believe that healthy eating and the importance of healthy food should be taught in schools. Others say that parents should teach their kids about healthy food and diet. Discuss both views, give your opinion and relevant examples
Some people argue that companies and private individuals, rather than governments, should pay the bill of pollution. To what extent do you agree or disagree?
https://www.facebook.com/ieltsfe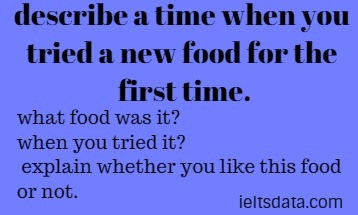 describe a time when you tried a new food for the first time. 
describe a time when you tried a new food for the first time. 
describe a time when you tried a new food for the first time. 
describe a time when you tried a new food for the first time. 
describe a time when you tried a new food for the first time.