describe a dream you have had.
What was the dream?
What did you saw in the dream?
And explain why you had a dream like that?
it is natural that every person has dreams in their sleep.sometimes it may be good and sometimes bad, worst or horrified.today I would like to talk about a good dream which I had a few weeks ago.i was sleeping in my bedroom at my house when I had this dream.it saw in my dream that I got my Canada pr visa and I travelled to Canada with my whole family.it was really a happy dream.
I saw in the dream that after getting the Canada visa we made all the preparations.we packed our luggage and on the day of our flight and after that we reached the international airport Delhi.after completing all the immigration and security services, we reached the place where we had to board the flight.at the scheduled time we board the flight and we all were very excited because it was the first time that we boarded a flight.after covering a long distance we reached the international airport Canada.my brother in law already came to the airport to receive us.he was waiting for us in the waiting longe.finally, after all, immigration and custom checkup, we came outside the airport and meet my brother in law and his whole family.after that, we travelled to the house.on the way, I saw that Canada is really a beautiful country.there was greenery all around and the road was surrounded by tall buildings.as soon as we reached home my dream shattered by my mother because she woke me up in the morning.
I had a dream like that because it had my dream in my real life to settle Canada with my family.i have already filed an application in Canada embassy for pr of Canada.i always talk about this with my mother.thats's why I had a dream like that.
follow-ups
Q-1: why you have a dream to settle Canada?
Ans: it is because of the problem unemployment in my country.i have done three master degrees but still, yet I have not found a job for me.but there are vast opportunities for a job in Canada.so for my better future I have a dream to settle in Canada.
Q-2: do you believe in dreams at night?
Ans: no not at all.i do not believe in dreams at night because it is the working of our unconscious mind and there is no reality in it.what we think with our conscious mind at daytime, it comes as a dream in our unconscious mind at night time.
Q-3: did you experience any bad dream during your sleep at night?
Ans: yes I had a bad dream at night when I was doing my graduation.it was the exam days.one day when I slept at night I had a dream that I reached very late at the exam centre and the centre supervisor forbidden me to enter the exam hall.I often experienced such kind of dreams on the exam days.
AUTHOR;
Gagandeep Singh Kahlon
M.A.(English)B.Ed.PGDCA.
Also, read
Some countries pay extremely high salaries for people. Some people believe that the country must not do that and make a limit for the salaries. Do you agree or disagree?
ieltsdata cue card example January to April 2017 Describe a time you had good experience in the countryside
Nowadays, people get information through news and papers, but meanwhile are uncertain about the truth of this news. Should we believe the journalists? What qualities should a good journalist or correspondent have?
https://www.facebook.com/ieltsfever.com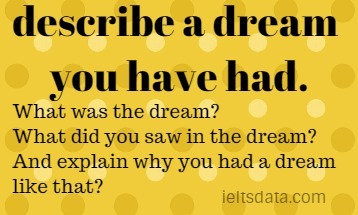 describe a dream you have had.
describe a dream you have had.
describe a dream you have had.
describe a dream you have had.
describe a dream you have had.