-----------------------------SPONSERS-----------------------------
describe a garden you visited regularly during your young age.
where was it?
what it looked like?
what you did there?
There are many gardens in my hometown where I often visited regularly at my young age.These gardens are maintained by the local authority, such as the municipal corporation.Here I would like to talk about the Dashmesh park Garden in Moga, where I used to visit regularly in my childhood and even visit now, whenever I get a chance.
this garden was made with the efforts of the then Akali minister of moga Jathedar Tota Singh.I used to go to the Garden with my family and friends.This garden is named on the name of the tenth guru of Sikhs Shri Guru Gobind Singh Ji.It is spread over 5 acres of land.It is one of the moga's best gardens.It has different varieties of roses which add to its beauty.Apart from roses, it has many plants and trees of medicinal value.there are grounds of green grass lashes everywhere.The local people go there daily.  All the plants are laid in carved out lawns and flower beds.The landscaping is superb.
people of all ages like children, young ones, old people and women.there is a place in one corner of the garden for the elderly people.sitting arrangement for women is at the centre of the garden.there are swings for the children where they play.various types of exercise machines are also there where people do exercise there.I go there and sometimes I do running and walking.i also do yoga there because one yoga expert comes there every day and teach yoga to people.i also attend yoga classes which helps me to keep fit and healthy.
 Follow-ups
 1. Do you visit this garden now?
Ans: yes, of course, I visit this garden even now because it is situated near to my house.so whenever I am free from my work I never miss the chance to go there with my family or friends.
2. What sorts of natural sites like mountain and lakes are there in your country?
Ans: there are different lakes and rivers in India like the Ganga, the Brahmaputra, the Yamuna, the Sarasvati.I belong to Punjab and its name is on the existence of five rivers.punj means five and ab mean rivers.it means a land of five rivers.
-----------------------------SPONSERS-----------------------------
3. Do people prefer more these places now than in the past?
Ans: yes people prefer to go to these places more than in the past because in this modern era people are too much busy in their work and they became materialistic.so they feel stress and to relax they visit gardens.
Some students take one year off between finishing school and going to university, in order to travel or to work. Do you think advantages outweigh disadvantages?
In many countries, mainly tourists, but not local people, visit museums and historical sites. Why does this happen, and what can be done to attract more local people to visit these places?
Some people believe that young people know about international pop and movie stars but know very less about famous people from the history in their own country. Why is this? How can more interest be created for young people to gain more knowledge about their own famous people from history?
https://www.facebook.com/ieltsfever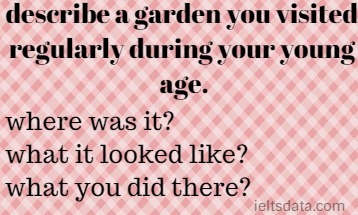 -----------------------------SPONSERS-----------------------------