Describe a product you bought and felt happy about
What you have bought?
Why you have bought?
How much it costs you?
and explain why you felt happy about it?
Describe a product you bought and felt happy about
In this technological world, everyone wants to live advance by using various modern gadgets. In these gadgets, mobile phone has gain so much popularity. Nowadays, Everyone has a wish to have a brand new mobile in his pocket with advance version of software and hardware. I also have a craze to buy new mobile phone. Recently, I bought a mobile phone of company apple. Its brand name is iPhone X. As we know apple brand is at peak point in the competition of mobile market because of its features, design etc.
Everyone wants an apple mobile in his life. I was also waiting eagerly for iPhone x's launch. I pre-booked it with just 2000 rs. It totally costs me around 82,000. After some days of pre-booking. It was launched and finally I got my mobile. My happiness was beyond the imagination because that feeling was just like one of my dream came true. It was looking so beautiful. It had fully black color with notch at its screen. It has 64gb internal storage, ios 11 software version, dual rear camera and one front camera. Its camera quality is mind-blowing as it has portrait mode option. So, we can click our pictures via focusing on a particular thing. It has 4g internet feature so we can enjoy the fast web browsing without any suffering.
The main thing that I look awesome in this that its charger and earphones are completely wireless. No company has still provided this feature in any model of their mobile. With this, I can enjoy the music without suffering with wire problems and can attend the call without putting out the mobile from my pocket. Nowadays, My mobile has become an integral part of my life as it assists me to accomplish many of my important works in minutes. I feel so happy to have this in my life. In future, even I would not like to replace it with any mobile phone.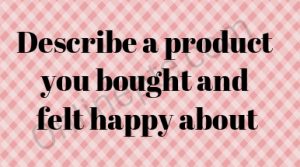 Describe a product you bought and felt happy about
Descsfedribe a product you bought and felt happy about