Describe your idea of a perfect home Ielts cue card
Where it would be.
How big it would be.
What it will look like.
and explain why it would be the perfect home for you.
Describe your idea of a perfect home Ielts cue card.
Everyone has their two homes in his life. One is his actual home where he lives and the other is his dream home what he wants to build up and live in there. Just like others, me too have a wish of building a new home. According to me, our home should build up where we can complete all of our needs as well as can grasp the benefits which is given to us by nature.
As we are living beings, we feel appetite, thirst etc. So, we need numerous things to survive such as food, water, electricity, some technological devices through which we can always be aware of all the alarming conditions happening in the world. So, exact position of a house is there where we can get all these things easily without any trouble. If we discuss about its size, then I would like to say that the size of a house has a correlation with the health of every person living in it. So, it should be as big as every member of a family can get enough place and facilities which is required to flourish their health fruitfully.
There should be a proper ventilation in each room so that we can get natural air and light. It should be looking clean and beautiful. Nowadays, people are building their homes totally covered and they are using a.c. which is the main reason of deterioration of the earth climate. Instead of it, I would like to grasp all natural benefits at my home and would like to build a simple and beautiful house which will has a beauty of natural greenery. According to me, it will be a perfect home for us as compared to longest skyscrapers. Because of having a greenery, access to natural resources, we can get all the benefits which is imperative to make our body healthier. If I will have resources to build my house, I will definitely build like it.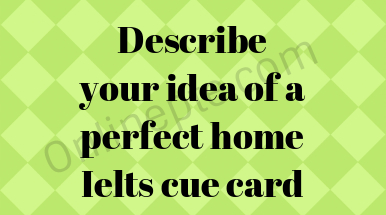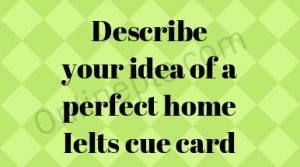 Describe your idea of a perfect home Ielts cue card
Describe your idea of a perfect home Ielts cue card