Describe a time when you had to go to a Hospital or see a Doctor
What was wrong with you.
How you felt at that time.
What happened at the hospital or Doctor's chamber.
and explain what treatment you were given up to help you get better.
Answer- No-one in his life wants to go to Hospital. There are two main reason of rejecting going to Hospital. First, everyone is busy in their life and they don't want to waste their valuable time for any disease. Second, there are some people who have fear to go hospital and to take bitter medicines. No matter how I am feeling, I would never like to go to the Hospital or Doctor.
Unfortunately, Once in my life, I had to go to the hospital. That time I felt so much cold and it was being more and more problematic everyday. After two days of toleration, I decided to go to the Doctor because it started disturbing me in my every work. I went to the hospital for checkup. I took an appointment and met with a Doctor. He checked and asked me some questions through which he found that I have an allergy of taking ice-creams. And this cold was also a result of it, Because I took an ice cream a day before this cold.
Then, the doctor gave a slip to his nurse and told her to give me a proper medicine and some tips to make my body healthy. The nurse read that slip and gave me a bottle of syrup along with some medicines. She told me to take it 3 times a day and gave me a diet chart to make my body healthier ever. The given prescription and medicine was so useful for me as it assisted me a lot to get rid out from this cold. And the Doctor's behavior was also so good which reduce my fear largely of going to hospital.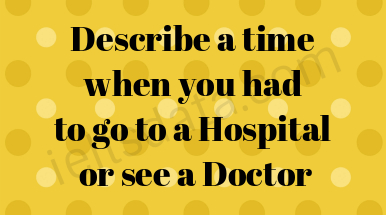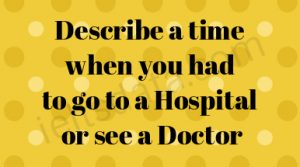 Describe a time when you had to go to a Hospital or see a Doctor
Describe a time when you had to go to a Hospital or see a Doctor