describe a time when you were very busy.
You should say:
– When did it happen?
– Where were you?
– What did you do?
– And explain why you were that busy?
nowadays life is very busy.every person got himself busy in his life.today I would like to talk about the time when I was very busy these days.actually, it was the time when I was doing my graduation.i had holidays from college these days and it was the marriage ceremony of my cousin sister.
I was in moga at that time and my cousin brother was alone.so my uncle put the responsibility of organizing the ceremony with my cousin brother on my shoulders.my uncle's is also residing in the same city moga.their house is not so far from ours.
so we started the preparations for the marriage and we divide the work between us.I hired a cook and bought all the necessary ingredients required by the cook to prepare the food for the guests.I also booked a palace named city park for the venue.it is situated on the Moga to Zira road.the big task for us was to deliver the invitation cards to all the guests.so we started this task two weeks before the ceremony.we make a list of guests with the instructions of my uncle.after that we planned when and where we have to give the invitation cards.so we finished this task within a few days.
finally, the day of the marriage came.i have to look after the guests and welcomed them.i was worried about the preparations.but my cousin was with me.so I felt a little bit relaxation.i had put an eagle's eye on the work of waiters because I had not wanted that my uncle could find any deficiency in the preparations.but with God's grace everything finished on a happy note.
follow-ups
Q-1: why people are so busy these days?
Ans: with the advent of technology and science, the life of the people became so busy that no one has spare time.the reason behind this is that people want to earn huge amount of money to make their life leisureful.
Q-2: is it good for a person to remain himself busy all the time?
Ans: it is good for a person to busy in his work so that he can do his work with hard work and concentration.but it is not good if he makes himself busy all the time because it would not only affect his work but spoiled his health also.
Sponsers
Q-3: how a person keeps himself more concentrated and healthy during his busy schedule?
Ans: some break is necessary for a person during his busy schedule to keep himself concentrated and healthy.for this purpose, a person should take some holidays to spend time with his family and must reserve some time to do exercise.this would definitely help him solve this matter.
AUTHOR;
Gagandeep Singh Kahlon
M.A.(English)B.Ed., PGDCA.
Also, read
Some people believe that studying literature is important for individual character building while others think it is a waste of time. Discuss both points of view and provide your own opinion.
ieltsdata cue card example January to April 2017 Describe a tall building in your hometown you like or dislike
Some people think that the amount of noise people make has to be controlled strictly. Others, however, say that people are free to make as much noise as they wish. Discuss both views and give your own opinion.
https://www.facebook.com/ieltsfever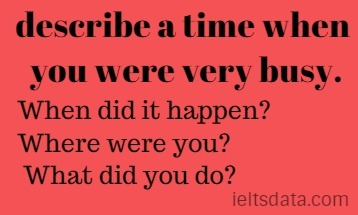 describe a time when you were very busy.
describe a time when you were very busy.
describe a time when you were very busy.
describe a time when you were very busy.
describe a time when you were very busy.
----------------------------------SPONSERS----------------------------------