describe an interesting house or apartment you visited.
You should say:
Where is this place?
What is it like?
When do you want to live in there?
the house is one of the three basic necessities of a person that is food, shelter and clothing.every person has a dream in his life that he would have a beautiful house.I lived in a house which was built by my grandfather and it is too old now.so I am planning to build a new house.today I would like to talk about an apartment which I have visited a few months ago. I have visited my friend who resides in Chandigarh and recently shifted to a new house.he built his house in sector 47 of Chandigarh.
it is a very beautiful apartment with all the facilities.it is in a very neat and clean area.my friend made the design of the house from a famous architect of Chandigarh.it was a flat in 200 square meters.there are two bedrooms in the flat with beautiful interior.there was a beautiful swimming pool in the apartment divided into two parts, one for the elders and one for the children.there was a garage for parking at least two cars.there was a drawing room in the apartment which was decorated with beautiful carvings on the walls.there was a beautiful sofa set with a single bed in the drawing room.
there was a prayer room at the top of the building.a lawn in front of the house adds to the beauty of the apartment.beautiful flowers were blooming in the garden which presents a scenic view of nature.I like that house because it really looked like my dream house which I would like to build in future.I want to live there again and whenever I get a chance to live there I would definitely go there.
follow-ups
Q-1: would you like to build a dream house?
Ans: yes, of course, I would like to build a dream house.it would be in the hilly area because of the pleasant weather of the place.I hate the scorching heat of the plains.so in future with gods grace I would build my dream house.
Q-2: what facilities would you like to have in your dream house?
Ans: I want all the facilities in my dream house which would be necessary for a person.i would like to have a garden in my house with green grass and beautiful flowers.I would also like to have swimming pool, ventilated rooms, beautiful interior and Italian style furniture.
Q-3: what do you think is it as easy as you think to build a dream house?
Ans: no, not at all, it is not as easy as I think because prices of all products necessary for construction are increasing day by day due to inflation.so if a person wants to fulfil his dream then he would have to work very hard.
AUTHOR;
Gagandeep Singh Kahlon
M.A.(English)B.Ed.PGDCA.
Also, read
Some people believe that teenagers should concentrate on all school subjects. But, others believe that teenagers should focus on the subject that they are best at or that they find the most interesting. Discuss both these views and give your own opinion.
-Men and women employed in full-time jobs should share the responsibilities of household chores. Do you agree or disagree? Share relevant personal experiences
The economic growth in developing and developed countries is making people richer. However, the research indicates that people in the developing countries are happier than people in developed countries. What is your opinion on this?
https://www.facebook.com/ieltsfever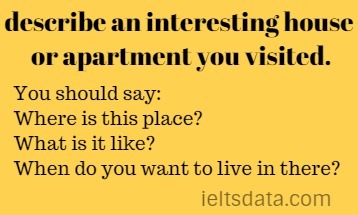 describe an interesting house or apartment you visited.
 describe an interesting house or apartment you visited.
 describe an interesting house or apartment you visited.
 describe an interesting house or apartment you visited.