talk about an achievement you are proud of.
What did you do?
When did you do it?
Why did that achievement make you proud?   
---
An achievement means when you get to set a goal in your life and after that, you move towards that with hard work and dedication and when you achieved that goal you really feel proud of it today I would like to talk about my passion towards writing poetry. it was the time when a small function is organized in the school on the eve of new year.
Our teacher in charge was selecting the boys from the class for reciting poetry. I was good enough in writing poems since my childhood but unfortunately, he rejected me. I felt very sad but on that day I made my mind that one day I will make my name in the poetry of Punjabi literature of Punjab. I started taking poetry classes from a renowned poet-teacher Gurbachan Singh Rahi.
when I left the school and took admission in college for my higher studies the Punjab University Chandigarh chosen our college to organize Punjab university zonal youth festival. I was very excited. the well-known writer and dramatist Bhupinder Singh Pali started giving guidance about poetry. with gods grace, I was selected at the time and we started preparing for the festival with courage and hard work. the coach always appreciated me to see my dedication toward folk writing poetry.
finally, the day of the festival came and I performed in poetry at the stage .everyone was shouted with joy and happiness as it was our home ground. on the award ceremony, the university coaches declared first prize for me. furthermore, tears came into my eyes when the mentor team selected me as the best poet among the other performers of the youth festival. it was like a dream comes true. I really proud of that achievement and that was an unforgettable moment for me.
follow-ups
Q-1: what is the necessary thing to achieve something?
Ans:  there are many things which are necessary to achieve something like hard work, courage, dedication, concentration, planning.luck is also one of them which matters in the life of a person.
Q-2: in this modern era why most people become failed in their desire to achieve something?
Ans: in this fast progressing world most people want to achieve success in a shortcut way.they do not give much importance to hard work, dedication etc.they want to achieve anything within a short period of time and that's why they become failed in their efforts.
Q-3: do you know any person in your personal life who has achieved something with hard work and dedication?
Ans: yes my cousin brother Simranjeet Singh Kahlon became an IAS officer with his hard work and dedication.he struggled for five years to become an IAS officer and finally his hard work bear fruits.he secured 78th position in all over India in IAS ranking.
AUTHOR;
Gagandeep Singh Kahlon
M.A.(English)B.Ed.PGDCA.
also, read
Some people who have been in prison become good citizens later. Some people think that they are the best people to talk to school students about the danger of committing a crime. Do you agree or disagree?
Some people think sports and games are important for society, while others believe they should be taken as leisure activities. Discuss both views and give your opinion.
talk about a company around your city which employs a lot of people.
https://www.facebook.com/ieltsfever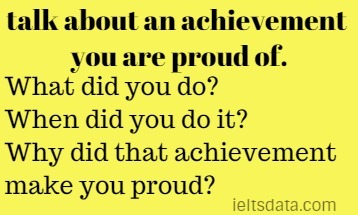 talk about an achievement you are proud of.
talk about an achievement you are proud of.
talk about an achievement you are proud of.
talk about an achievement you are proud of.
talk about an achievement you are proud of.