Describe an old friend in your childhood.
who is he/she?
why did you like him/her?
what did you experience from it?
there is three stages in every person's life.childhood, teenage and old age.but among them, childhood is the golden part of any human beings life.because in this age every person is free from all kinds of worries and responsibilities.one is free to play and do other things with his friends.parents of child bought a large number of toys for him and he loved to play with them. all kids have many friends in childhood.but today I would like to talk my best friend in my childhood and he is Tejinder Singh( prince)
his father was a school principal in his own private school. my father was doing the job as a sub-inspector in Punjab police. he lived close to my house. we studied together in the same school and always went to school on the same bus.he was very intelligent and we always secure good marks in the exam. we play together on the ground in the Dashmesh park Moga in the evening time after finishing our homework.
my father bought a pistol toy for me in my childhood.  I played the role of a police officer when I played with my friends the game of police and a thief. my friend acted the role of a thief and vise versa. one day i lost my pistol toy and it seemed to me at that time that a good companion of mine had lost. I felt sad for the whole week at that time. now I am 25 years old and my father bought an original pistol for me and now my friend Tejinder also became mature enough but it has a different meaning for us.we still spend time together. we miss the childhood time.
AUTHOR;
Gagandeep Singh Kahlon
M.A.(English)B.Ed., PGDCA.
Also, read
A recent newspaper article reported that a 14-year-old boy who seriously destroyed his school got the punishment to clean the streets, instead of being sent to prison. Do you think this is right, or do you think that such criminals should be sent to prison?
Some believe that students who fear their teachers excel academically. Others believe students work better when they have a friendly relationship with their teacher. Discuss these views and provide your opinion.
Many people believe that healthy eating and the importance of healthy food should be taught in schools. Others say that parents should teach their kids about healthy food and diet. Discuss both views, give your opinion and relevant examples
https://www.facebook.com/ieltsfever.com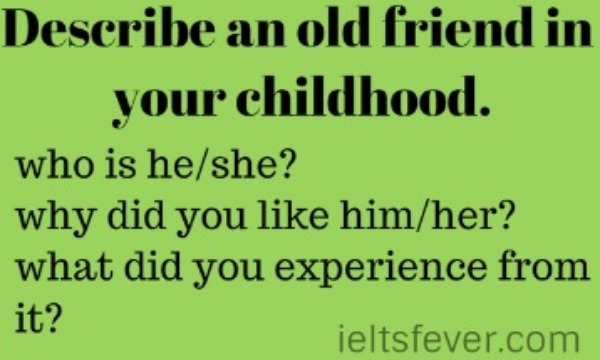 Describe an old friend in your childhood. Describe an old friend in your childhood. Describe an old friend in your childhood. Describe an old friend in your childhood. Describe an old friend in your childhood.