Describe a party you attended or joined.
what was it?
how you celebrated?
why was it important for you?
a man has experienced a number of happy events in his life.these events make the life of a person colorful. every event has its own importance in its own way. today I would like talk about an important event which I celebrated a few weeks ago with my family and friends.it was the wedding ceremony of my cousin sister.she is very close to me.it was very difficult for my cousin brother to make all the arrangements.so i helped him to make all the preparations.
her wedding was on 14 February. luckily it was the valentine day. my uncle and whole family decided to celebrate her wedding in a grand way because she is in the good books of all the family members..my uncle put the responsibility of all the arrangements on my shoulders.so I started all the preparations a few days ago.first of all I hired a cook for preparation of food and other eatables for the guests. after that, I booked the crockery required for the celebration.i also bought some balloons and other decorated items to decorate the house. I booked a vegetarian cake of 8 pounds of chocolate which is an important flavor of my cousin. I invited my friends, relatives in advance.
when the day come everyone in the family dressed up to the nines. my cousin sister wore a new red color lehnga with embroidery on it. this suit brought by his grandfather.all the dishes were displayed on the tables and guests were enjoying eatables. a DJ system was also arranged for the event and guests were dancing on the rhythmic tunes of the music. my cousin sister and her would be husband cut the cake accompanied by all the near and dear ones. all the guests brought different kinds of gifts for my cousin.she was very happy and was very keen to open the gifts.it is a very important event for me because my cousin sister is very close to my heart since his birth.
(Gagandeep Singh Kahlon)
M.A.(ENGLISH)B.Ed., PGDCA.
Nowadays, people get information through news and papers, but meanwhile are uncertain about the truth of this news. Should we believe the journalists? What qualities should a good journalist or correspondent have?
Nowadays, people are spending increasingly large amounts of money on their marriage parties. Many people feel large and expensive weddings cause problems for the bride and groom. Do you agree? Use personal examples in your response.
talk about a company around your city which employs a lot of people.
https://www.facebook.com/ieltsfever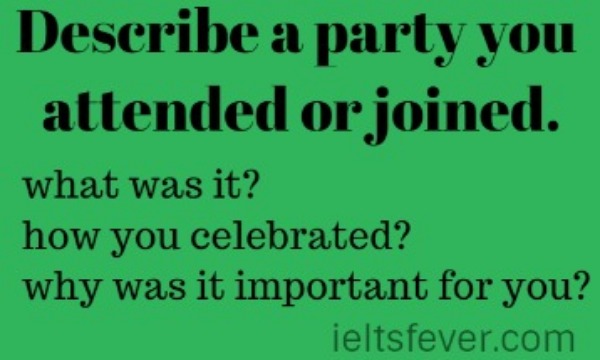 Describe a party you attended or joined. Describe a party you attended or joined. Describe a party you attended or joined. Describe a party you attended or joined. Describe a party you attended or joined.