talk about a traditional product of your country that you bought.
what is it?
who wear it?
when did you try it for the first time?
india is known for its vast traditions and culture.india is a country of different casts and creeds and people belong to them have their own culture and traditions.india has 28 states and 7 union territories and all these have their own traditional background.I belonged to the state of Punjab. it is a state of kings and worriers who are recognized from their beautiful dresses.today I am going to talk about the traditional dress of Punjab which is sherwani.it is traditionally wore by kings of Punjab.but now it is famous among the youth of Punjab.
it is made of a special type silk-like fabric.it mostly comes in light colors like off-white, cream and white.a beautiful type of embroidery is done on it in dark colors like red, orange.it is a combination of a long dress with a tight pajama.in earlier times it is mostly worn by grooms on their marriage ceremonies but nowadays youth of Punjab also wear it on various functions and parties.it is a little bit costly so some people hire it from the market but some people stitches it from professional tailors.
I first saw this dress on the marriage ceremony of my cousin sister.it is worn by her would be husband.he looks very handsome in this dress.he wore a cream sherwani with red color embroidery on it.he tied a red color turban matched with the red color embroidery and red color jutti.I tried it for the first time on my marriage ceremony.I stitched it from a famous tailor deep men's shop moga.it was off-white in color with beautiful red color embroidery on it.i also tied a red turban and wore red color jutti with it.everyone praised me for this dress.it is my favorite dress and I still wear it on special occasions.
follow-ups
Q-1: describe one more traditional dress of Punjab.
Ans: the other famous traditional dress of Punjab is kurta pajama.this dress is not only famous in Punjab but all over the world.it is wear with Punjabi jutti.i could be wear on any occasion.most politicians of Punjab like to wear this dress.
Q-2: why Punjab is known as the land of warriors?
Ans: Punjab is situated on the north side of India which was the first and foremost priority for the invaders of the world.so people of Punjab have to face the invaders first on the battlefield.so they have bravery in their blood.they have fought many battles for the sake of their nation.that's why Punjab is known as the land of warriors.
Q-3: why Punjab's traditional products are famous all over the world?
Ans: after the independence of India, it has progressed very fast in every field.whether it is communication technology, transportation technology.with the advent of technology, people of India got a chance to settle in all parts of the world for better future.so wherever they go, they explore their vast culture there.
AUTHOR;
Gagandeep Singh Kahlon
M.A.(English).B.Ed., PGDCA.
Also, read
Individual greed and selfishness have been the basis of the modern society. Some people think that we must return to the older and more traditional values of respect for the family and the local community in order to create a better world to live in. To what extent do you agree or disagree?
More and more people are using the Internet to do their tasks rather than doing in person. (e.g. banking, shopping, hotel booking etc. ). Do the advantage of this trend outweigh the disadvantage.
Some people think that charity organizations should only offer help to people of their own country. But others believe that these organizations should give aid to people in great need wherever they live. Discuss both views and give your opinion.
https://www.facebook.com/ieltsfever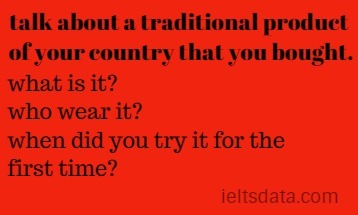 talk about a traditional product of your country that you bought talk about a traditional product of your country that you bought talk about a traditional product of your country that you bought talk about a traditional product of your country that you bought talk about a traditional product of your country that you bought