talk about someone whom you think is the best parent.
Name and where he/she resides?
What has he/she done?
How were you impressed by him/her?
---
Parents are second God because they take care of us after God in our childhood.My own parents are best parents for me. Both have equal importance and value for me, but today I would like to talk about my mother who is a role model for me in my life. Her name is Gurmit Kaur. she is 60 years old.she is a housewife and always did her duties about their children with hard work and dedication.
My mother is very hardworking and tolerable person since her early days. she has seen many ups and downs in her life and has seen many poor economic situations in her teenage. my maternal grandfather told me about my mother that in her early days when she was just 13 or 14 years old, her mother had died and he looked after his children with difficulty because on one hand he had to do his job and on another hand, he had to look after his children.
my mother always helped her father in the absence of her mother. My mother got married to my father at the age of 18 and took the burden of her family on her shoulders.she always kept standing with my father in his difficult circumstances.We have three siblings, two brothers, and one sister. My mother helped us in our study and made us educated persons.
she has also faced the dangerous circumstances in 1984 massacre when a situation in Punjab was very burdensome because at that time my mother had visited golden temple Amritsar Sahib accompanied us.but with her courage and understanding she was successful in escaping safely from there. But my mother has a firm belief in God and she always prays to God early morning and evening time. she also motivated us to keep believing in God and do right things in life. So, my mother has a great role to play in my life.
follow-ups
Q-1: what is the role of parents in every person's life?
Ans: parents have a great role to play in their children's life.because after the teachers in school only parents played an important role in the all-round development of personality of their children.
Q-2: is it right to say that parents are the second god?
Ans: of course there is no doubt if parents are said to be the second god because God looked after the child for nine months in the womb of the mother and after the birth of the child, parents look after the child since his birth until he became capable to do things individually.
Q-3: what do you think that parents are running from their responsibility for their children in this modern era?
Ans: it is right to a great extent because people became materialistic in this fast progressing world and they give more importance to earn an exorbitant amount of money instead of looking after their children.they forgot that their children are their real wealth.
AUTHOR;
Gagandeep Singh Kahlon
M.A.(English)B.Ed.PGDCA.
also, read
Environmental problems are too big for individual countries and individual persons to address. In other words, we have reached the stage where the only way to protect the environment is at an international level. To what extent do you agree or disagree with this opinion?
Nowadays, many families have both parents working. Some working parents believe, other family members like grandparents can take care of their children, while others think childcare centres provide the best care. Discuss both views and give your own opinion.
Nowadays we see an increase in social problems involving teenagers. Many people believe that it is because parents spend more time at work and less with their children. Do you agree or disagree?
https://www.facebook.com/ieltsfever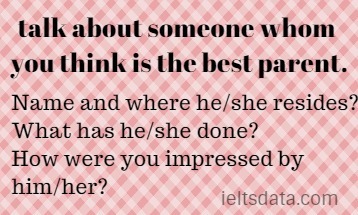 talk about someone whom you think is the best parent.
talk about someone whom you think is the best parent.
talk about someone whom you think is the best parent.
talk about someone whom you think is the best parent.
talk about someone whom you think is the best parent.