The Chart Below Shows the Total Number of Olympic Medals Won by Twelve Different Countries. Summarise the Information by Selecting and Reporting the Main Features, and Make Comparisons Where Relevant.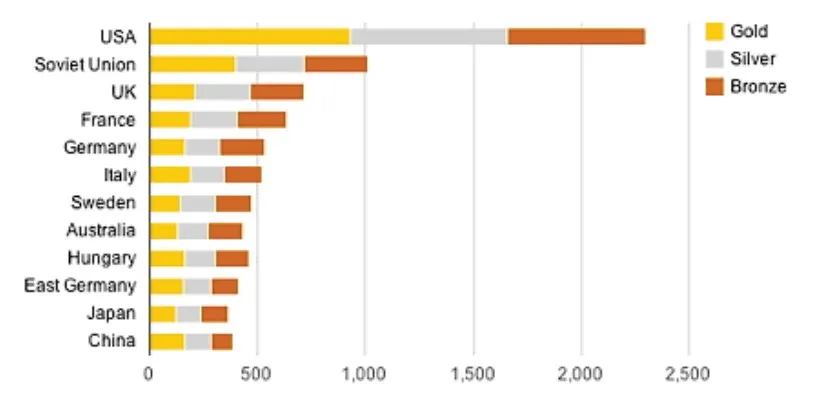 The chart illustrates twelve nations in terms of the total number of Olympic medals they won. Overall, it is manifest from the graph that the highest number of awards won by the USA will be the latest number of medals won by Japan.
To begin with, the USA won almost 2300 medals, including gold, silver and bronze and stood at the top of the list. Moreover, the Soviet Union followed the USA and won 1000 Olympic medals. UK and France won 700 and 600 awards, respectively. At the same time, 550 citations were achieved by Germany and Italy each. Sweden had 490 medals and grabbed the 7th position In the list of 450 awards won by Australian people.
In addition, Hungary people won 170 gold medals, 150 silver medals, and 160 bronze medals. At the same time, East Germany and China people achieved almost similar Olympic medals, 440 and 430, respectively. Japanese people won the least number of the total Olympic medals. It accounted for nearly 400 Olympic medals.
Follow Us on IELTSDATA Twitter