describe a photo of yourself that you like.
what is the photo?
when you took this photo?
where you took this photo?
why do you like the photo?
science and technology have achieved enormous success in all fields of life.new inventions are coming day by day.about two-decade ago, the handy camera was very popular among people.but with the advancements in technology, mobile phones have come into the market.these mobile phones are very compatible and have many kinds of software.one specialty of mobile phones is that it has a dual camera in it and one could capture his memories in his mobile phone.today I am going to talk about my favorite pic of a picnic to a hill station with my friends and class teachers.
it was the time when I was doing my bachelor of education degree from Sant Mela Singh college, Jammu.our college organized a picnic to a hill station named patnitop.we all were 200 hundred students in four buses.after one hour journey through the hilly area, we reached patnitop.it was a beautiful place to visit.there were greenery all around and the hills were surrounded by long trees.it presented a scenic view of nature.after taking our lunch there, we were ready to enjoy the beauty of nature.i took this picture there.there are my close friends and some teachers in this pic.one of my friends took this picture with my mobile phone.
-----------------------------SPONSERS-----------------------------
I like this pic because of my old memories of college time are attached to it.it is a very beautiful pic and I feel myself in the lap of nature close to my friends and teachers.there is a beautiful background of nature in this picture which adds to its beauty.everyone dressed up to his nines in this picture.it is a big picture and I framed it in a beautiful golden frame.I hang this picture in my bedroom.
follow-ups
Q-1: how the pictures keep our memories alive forever?
Ans: pictures are a good source to store our memories for a long time.by seeing these pictures we can remind our past time spent with our friends and we always feel close to them.we can frame them and display in our house and it always reminds us of our past.
Q-2: in this modern era, how people keep in contact with their near and dear ones?
Ans: with the advent of new technology mobile phones changed the life of every human being and it makes them more close to each other, a large number of social websites like facebook, WhatsApp, Instagram, Skype, Viber are easily available on the internet and people could keep in touch with their friends through these websites.
Q-3: is it safe to share pictures on the social websites?
Ans: it is not completely safe to share pictures on the social websites.we have seen so many incidents that how people misuse the pictures uploaded on these websites.now, the officials of these social website makes some privacy settings and by using them one could secure his personal data.
AUTHOR;
Gagandeep Singh Kahlon
M.A.(English)B.Ed., PGDCA.
Also, read
Some people think history has nothing or little to tell us, but others think that studying the past history can help us better understand the present. Please discuss the two views and give your own opinion.
Nowadays, many families have both parents working. Some working parents believe, other family members like grandparents can take care of their children, while others think childcare centers provide the best care. Discuss both views and give your own opinion.
ieltsdata cue card example January to April 2017 Describe a time you had good experience in the countryside
https://www.facebook.com/ieltsfever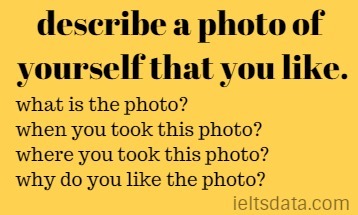 describe a photo of yourself that you like. 
describe a photo of yourself that you like. 
describe a photo of yourself that you like. 
describe a photo of yourself that you like. 
describe a photo of yourself that you like.
-----------------------------SPONSERS-----------------------------