describe an important conversation that influenced you.
what was it?
with whom you had a conversation?
about which was this conversation?
why you influenced?
I met many persons in my life and have had a conversation with them during my education time.they have influenced me with their knowledge.but today I would like to talk about an important conversation which I have when I was doing preparations for my Punjab civil services exam.this conversation was with my Punjabi literature teacher professor Gurbachan Singh Rahi.it was about the history and culture of Punjab.
professor GurbachanSingh Rahi have a doctorate in Punjabi literature.he is a very religious person.he is the gold medalist in Punjabi literature.actually he belongs to Pakistani Punjab but at the time of partition, he has to move to Punjab in India with his family.he always expressed his sad emotions in his lectures about the division of Indian Punjab into different states like Haryana, Himachal and Jammu and Kashmir.he saw this division in front of his eyes.he told us that how the Indian governments divide punjab into pieces for their sake.he was concerned about the future of Punjab.he expressed that only plains are left in Punjab and other reserves like coal and minerals have gone to other states.in this way, Punjab has lost its important sources of income.
I influenced from this conversation because I did know about this history.it is only through professor sahib that I came to know about this tragedy happened with Punjab.it added to my general knowledge about history and culture of punjab.i was unaware about this hidden truth about Punjab.after this conversation, I often met him and have a conversation on other important topics related to punjab.with gods grace I got a chance, I will definitely go to meet him again.
follow-ups
Q-1: do you like to converse with people of different interests?
Ans: yes, definitely.because when you converse with people of different interests you get a chance to know something new from them.it adds to your knowledge and removes your hesitation to face unknown people.because in future when you would go for an interview, you have to face different kinds of people at the same time.so this activity would build your confidence.
Q-2: what kinds of conversations do you like to have with people?
Ans: I like to have a conversation about history and literature related information.sometimes the knowledge you got from conversation has not any record in books in written form.so it is a better source to gather information from the conversation.
Q-3: did you participate in any kind of debate competition in your past life?
Ans: I got a chance to participate in the debate at school time only in the class but I did not participate in any debate competition in my earlier life.but I love to participate.if I got a chance in future, I will definitely participate in it.
AUTHOR;
Gagandeep Singh Kahlon
M.A.(English)B.Ed.PGDCA.
Also, read
Some people believe that teaching children at home is best for a child's development, while others think that it is important for children to go to school. Discuss the advantages of both methods and give your own opinion.
Some people who have been in prison become good citizens later. Some people think that they are the best people to talk to school students about the danger of committing a crime. Do you agree or disagree?
Some people think governments should focus on reducing environmental pollution and housing problems to help people prevent illness and disease. To what extent do you agree or disagree?
https://www.facebook.com/ieltsfever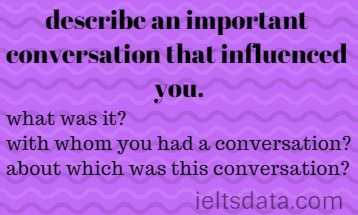 describe an important conversation that influenced you.
describe an important conversation that influenced you.
describe an important conversation that influenced you.
describe an important conversation that influenced you.
describe an important conversation that influenced you.